For Best Viewing & Security - Download The Latest Version Of FIREFOX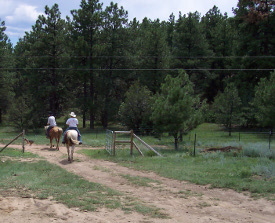 Karen and I were looking for a business to invest our future in. We used to raise horses but that was somewhat overbearing due to the limited amount of land available to us. In our travels around Colorado we started to notice how docile alpacas appeared. I decided to look into all the aspects and costs of raising these animals. We visited several ranches and found these animals very loving and people friendly.

We became acquainted with a very friendly and very informative gal that owns a ranch in our local area. We were invited to Golden Fleece Alpacas of Trinidad, Colorado. The owner, Michelle Blake, introduced us to her clan of alpacas and the world of alpacas. We immediately fell in love with these creatures and went into negotiations to purchase a starter herd.

Well, from that point we now included our sons Stan and Jon into the venture, and started building our ranch to accomodate the new family. At this time we are expanding shelter facilities, fencing and preparing pasture, and more. Our goal is to breed quality alpacas for sales, and quality fleece for everything from yarn to various clothing products.

This has turned out not only to be an exciting business, but, an endearing adventure for the entire family.
"When extraordinary power and extraordinary pay are allotted to any individual in Government, he becomes the center around which every kind of corruption generates and forms." Thomas Paine

Thomas Paine referred to such power mongers as "parasites"!
Web Content:
We welcome and encourage your comments - suggestions - product reviews.
Your Feedback Helps Us Create A More Diverse And Interesting Web Site!
Thank You For Visiting and Come Back Soon.
We reserve the right to remove any content deemed unacceptable to this site!